What's the difference between SEO and PPC?
There are a number of key differences between SEO and PPC. The more you understand those differences, the more you can strategize how it fits into your overall marketing strategy and the more you can benefit from SEO.
Both search engine optimization and PPC are strategies for driving traffic to your website. The difference is in how that traffic is acquired.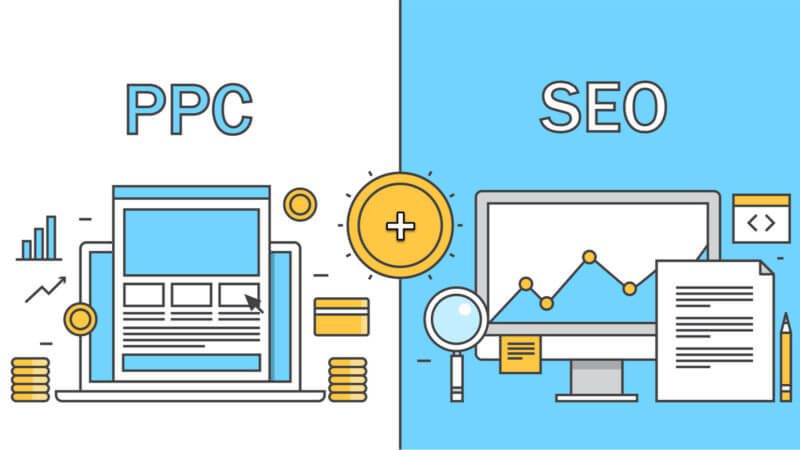 Are you stuck in the cyclical SEO vs PPC debate? You aren't alone. CMOs for global brands constantly wrestle with how to find the perfect synergy between their SEO and PPC strategy to deliver the best marketing ROI.
Your brand already leverages search engine optimization (SEO) and spends a large amount on pay-per-click advertising (PPC). You like what SEO delivers for your brand, as you can capitalize on organic search cost-effectively. On the other hand, you like that PPC produces returns as soon as you deploy ads.
You know that both marketing vehicles generate results. But do you know your specific ROI from each vehicle? More importantly, do you know how to combine them to maximize revenue for your brand?
Let's walk through the pros and cons of organic SEO vs PPC so you can create the right mix to maximize your digital marketing impact.
Pros and cons
Pros of SEO
SEO is highly profitable
How do things shake out when you compare organic search results vs paid? Dollar for dollar, SEO is likely to become one of the most profitable vehicles in your marketing mix. Over the long-term, it's much more profitable than PPC.
According to a 2020 Forrester Consulting study, SEO improves a crucial business metric: customer lifetime value (CAC). Marketers and executives stated that traffic sourced through SEO was more engaged and showed more brand loyalty than through paid channels. Read the full study here.
The cons of SEO
There's no getting around this. Good SEO takes work, and results take time to materialize. Herein lies the crux of the SEO vs PPC debate:
PPC returns are immediate, but they vanish if you don't pay the piper.
SEO takes time, but you'll continue to see ROI long after your investment. In fact, sometimes those results can continue for years.
Search engine optimization (SEO) has both advantages and disadvantages. Although it's considered one of the most important tools to rank higher with Google, there are downsides to SEO. Here are the pros and cons of SEO, brought to you by the SEO experts at Saba SEO, an industry-leading San Diego SEO company businesses rely on for high-quality service and unparalleled marketing expertise.
Advantages
Free
SEO is totally free of cost, and it depends on how much time you spend researching keywords and utilizing them in your high-quality content.
Localized Traffic
Using local SEO tools such as Google My Business can help you improve your localized traffic.
Mobile Friendly
Good SEO means your site is responsive, your site speed is good, and there's no latency for mobile users.
Expert Status
Following best SEO practices means your site is an authority. You only have one article per keyword, and you only have backlinks from high-quality sites.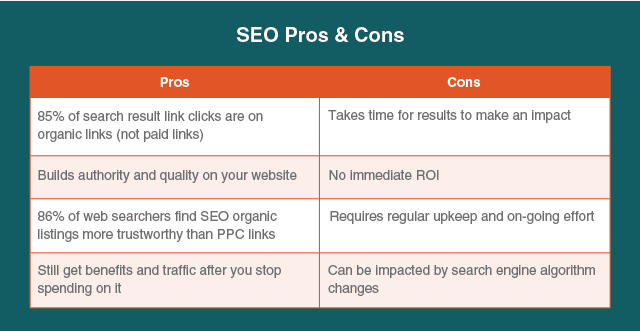 Google's Algorithm
The word "algorithm" can seem scary, but it is simply a computer code that understands the question and evaluates the relative merits of the answers. In SEO, we are mostly focused on the second part. We aim to send the right signals to Google's algorithm to convince it that our answer is the best, most useful, and most appropriate for the question it has understood.
Machine Learning in Google's Algorithm
As the name suggests, " machine learning is functionality that helps software perform a task without explicit programming or rules." Google gives some examples of tasks machine learning may perform:
Personalize product recommendations based on customer behavior
Look for keywords in massive numbers of text documents
Enable software to accurately respond to voice commands
Google Ranking Factors
Google's algorithm takes thousands and thousands of signals into account when evaluating a page to determine where it should rank for a specific user query.
When we talk about ranking factors, we are simply identifying which groups of signals have the most influence on how well a piece of content will perform in Google search.
From your perspective, we are identifying which aspects of your content, website, and reputation you can improve to most effectively boost Google's opinion of your content, and thus gain a higher position in the search results.