Allegheny Valley Transfer Company is a moving company in Pittsburgh, PA. Media Pillars manages their entire online presence including its business email management.

BodyWork Professionals has 3 locations in Upstate New York and provides a variety of massage services. Media Pillars handles their SEO (Search Engine Optimization) and provides consultations regarding other aspects of their website to help increase conversions.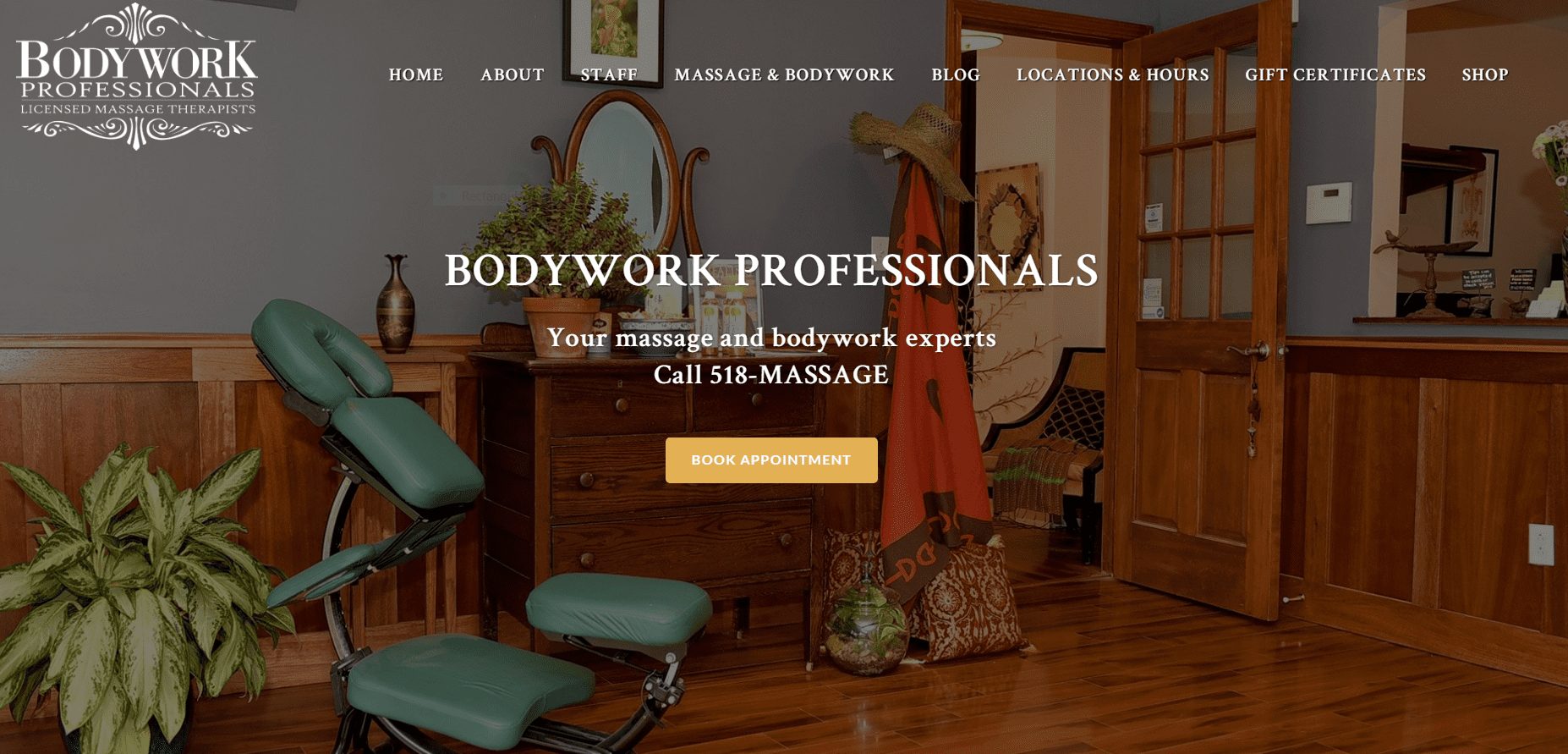 Superior Co-Op HVAC specializes in new technologies for heating & cooling. Veteran-owned and one of Media Pillar's most engaged businesses when it comes to their marketing. Media Pillars provides management of their entire online presence and marketing.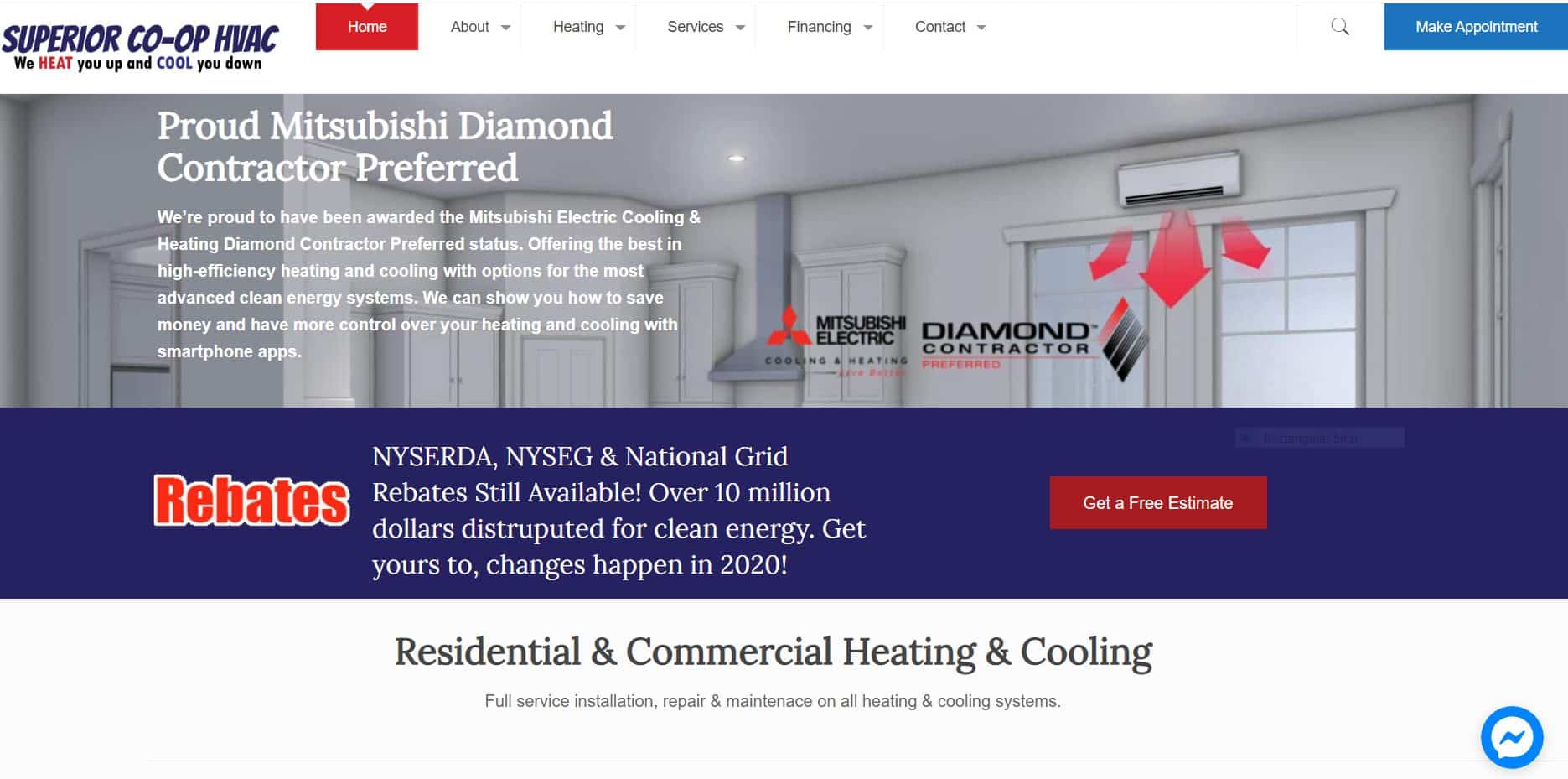 Owner Review
Owners Reviews

Tony Mangino Mitsubishi is a Clifton Park, New York car dealership. Well known for their 5 star customer service and overall care for their customers. Tony Mangino has hired Media Pillars to manage their social media online presence. With regular social media and Google Business posts we are constantly ensuring that Tony's social media mirrors his other marketing messages.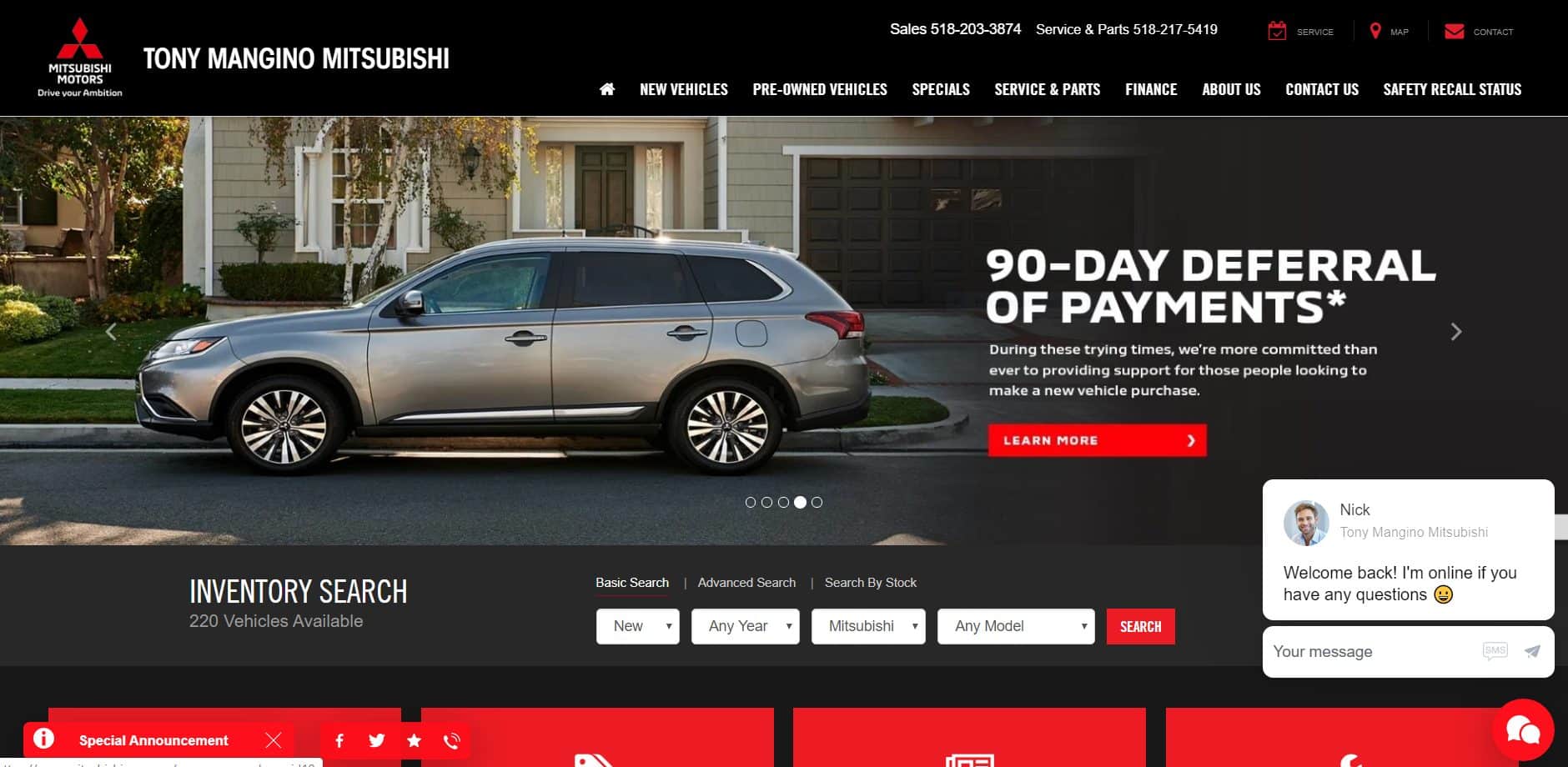 Owner Google Review
Walters Law Group is a law firm that specializes in first amendment law. Media Pillars does SEO (Search Engine Optimization) and other minor site optimizations for them. Media Pillars also uses their services. Walters Law Group has set up our LLC among handling many other legal aspects of our business over the past 10 years.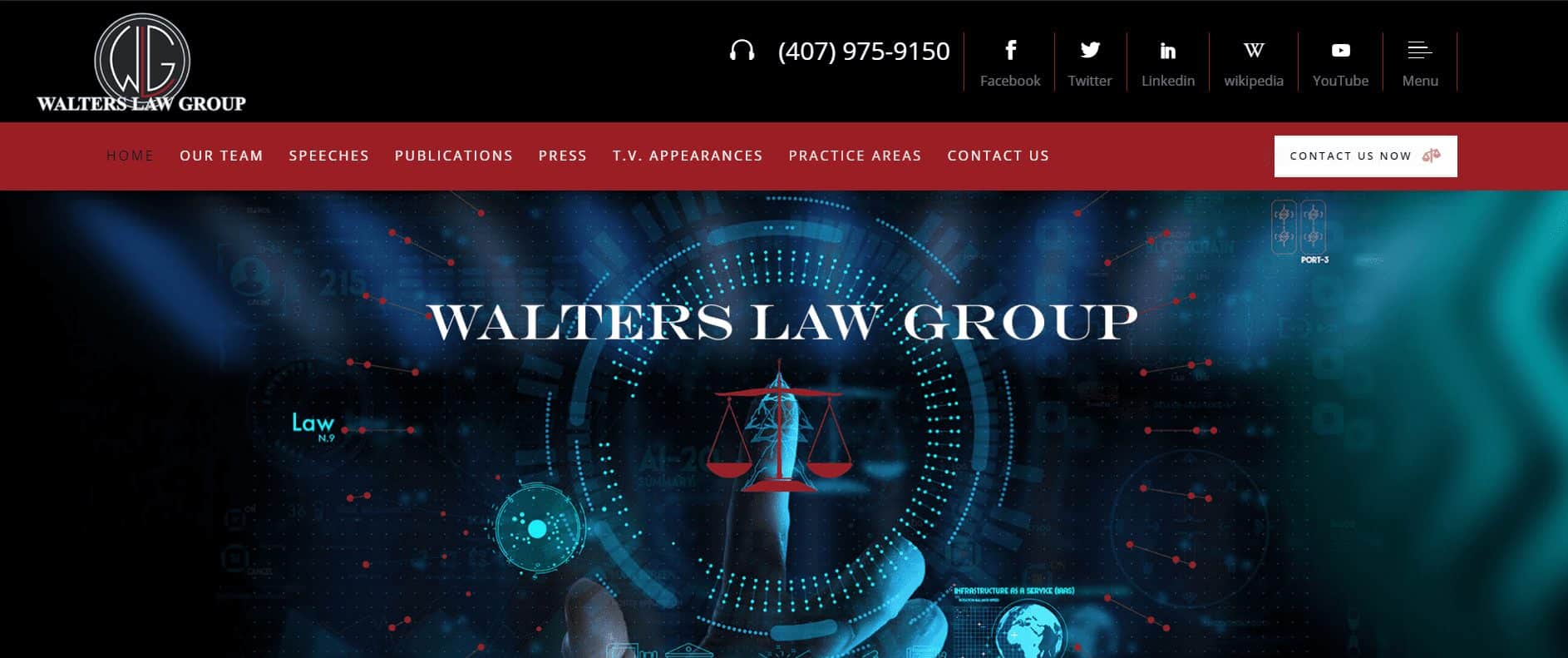 Owner Google Client Review
Northway Golf Center is located in Clifton Park, New York and offers a driving range, TOPTRACER technology and a variety of other services and products to the golfing community to include lessons, club repair and an online store. Media Pillars manages their website, hosting, basic SEO and their social media platforms. We also manage their business email accounts and services which include all the tools and features of the new Google Workspace. The staff do all the inputting of products.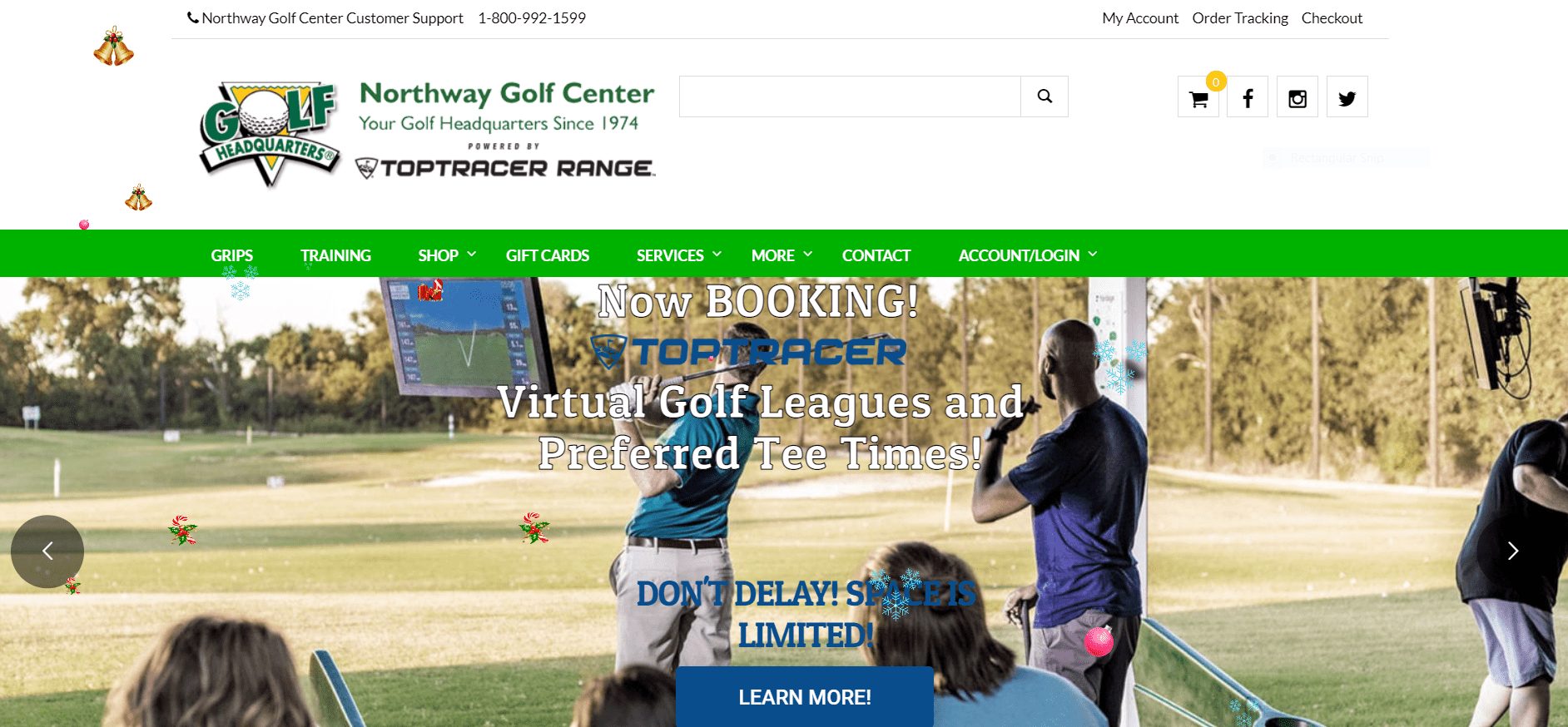 Northway Golf Center Google Client Review
K.R.W. Electric Vehicle and Cart Sales is located in Pocomoke City, MD, and offers a variety of new and used golf cars. They have been in business for many years and are the receipts of nearly 100% five-star Google reviews. Media Pillars provides their entire online presence management resulting in significant boosts in online requests allowing their sales staff to increase sales over the last couple of years.
Learn more about our Golf Cart Dealer Services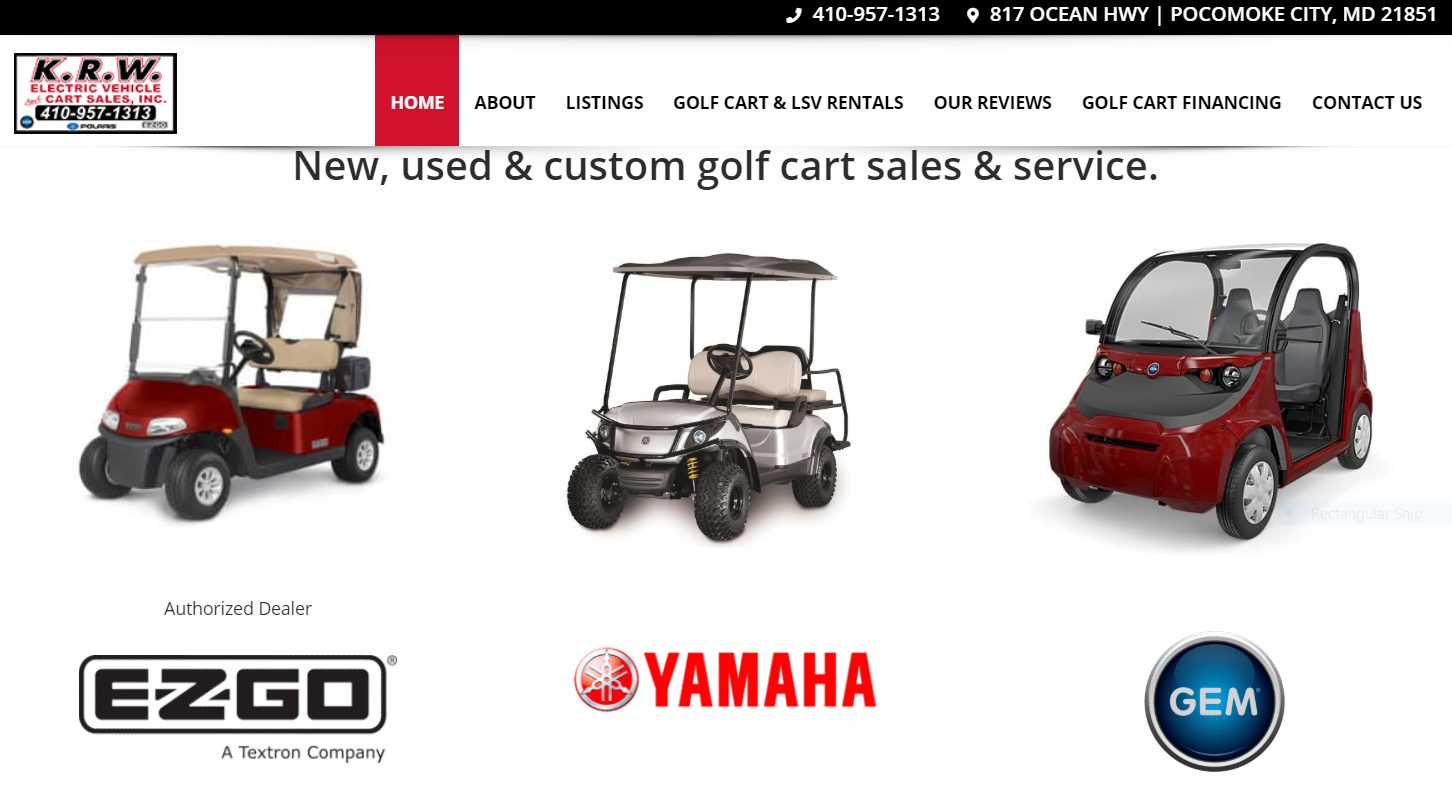 Owner Google Client Review
Jody Fuller is a comedian, writer, and soldier. Media Pillar's founder met Jody while at a military school and after hearing his comedic talent and discovering how much time and effort Jody donates to good causes offered to host and manage his website for free. We are PROUD to be a very small part of what Jody is doing.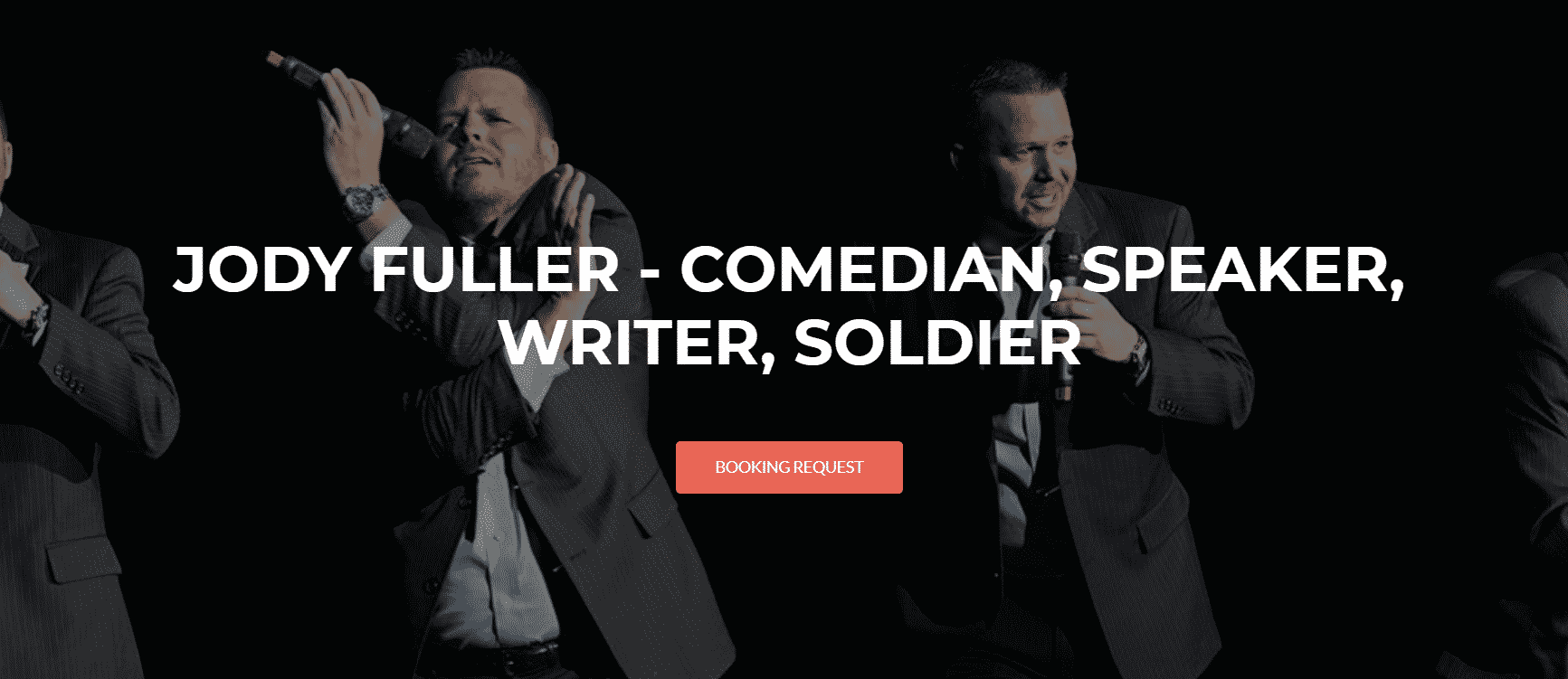 Jody's Client Review on Google
The Law Office of Kyran D. Nigro hired Media Pillars to develop their website, host, and do ongoing SEO services. Kyran is a great guy and a very experienced lawyer with nearly 30 years of experience with services available in and around Saratoga Springs NY.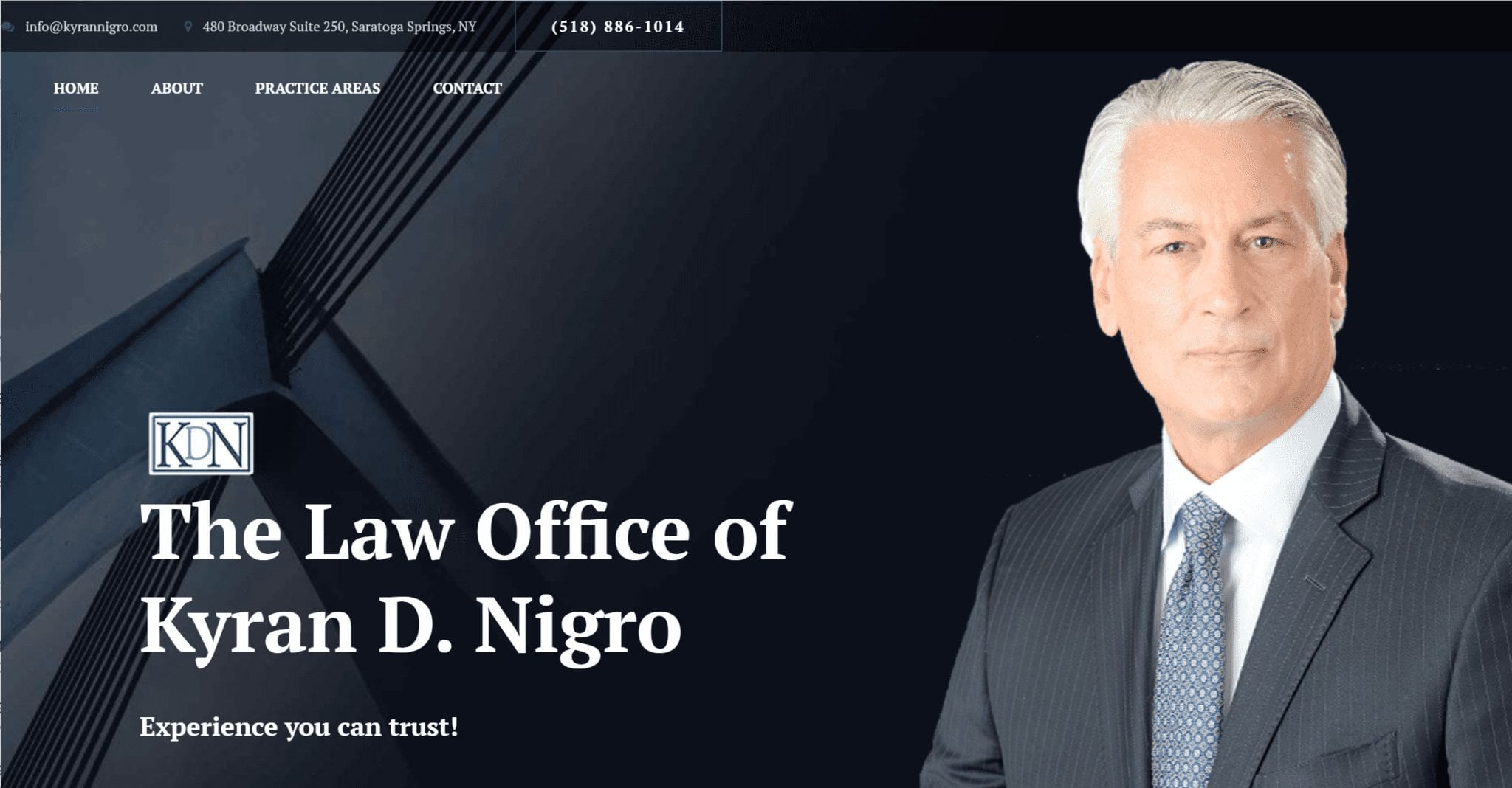 Kyran's Google Client Review
The Kinney Agency, Inc hired Media Pillars to develop, manage and host their website as well as manage their email specifications that are direct to a third party email company. They have two locations, one in Hudson Falls, NY & the other in Galway, NY. Some of the friendliest people you will ever meet. Honest, hardworking, and devoted to their staff and customers.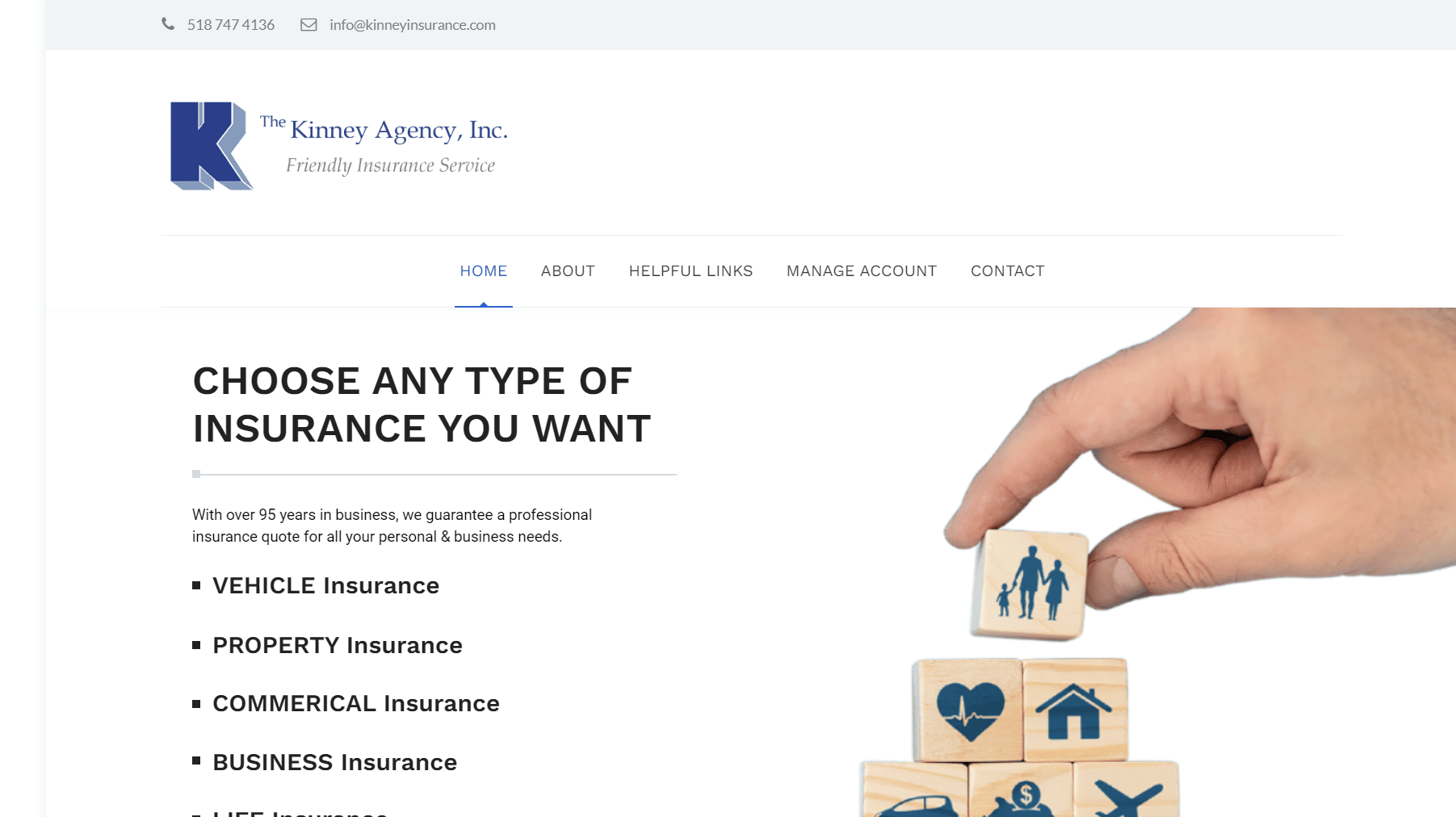 Owner Google Client Review
Bentley Seeds is a 3 generation old American company based out of Cambridge, NY. They supply a large variety of seed products throughout the United States. Media Pillars manages their automated email campaigns, SEO, social media management, and inbound marketing strategies.
Patriot Drones based in Pinconning, MI is the answer for all your aerial photography and videography needs. We did the web development and are continuing with hosting and SEO services.
The King of Credit is a used car dealership located in Clifton Park, NY, and specializes in getting people approved for credit to buy one of their very high-quality used vehicles. Owned by Tony Mangino and like his other dealership proving to be a very helpful operation for those who need assistance in getting approved for credit. Media Pillars has been hired to manage their social media presence online.
Pure North Golf Cars are located in Northern Michigan and hired Media Pillars to develop its website. Great people who are devoted to providing the absolute best service in the sales, rental, repair, or customization of E-Z-GO and Cushman golf cars & utility vehicles.
Learn more about our Golf Cart Dealer Services
Apollo Moving & Storage is a moving company in Pennsylvania and hired Media Pillars for their entire online presence and business email management.  They are owned by the same person as Allegheny Valley Transfer Company who hired us for that business, then they were so happy with the results there, they hired us for Apollo as well. Both companies are great and have some of the best people you'd ever be lucky enough to meet.
Cugino's Pizzeria hired Media Pillars to develop their website and we continue to provide them with their website hosting and website management. Owned by Big Lou, this place is simply incredible. We have never seen a pizza place owner care more about his customers than Lou does. Many people go there for the food, but also to visit what they consider a good friend, Lou.
Rit Fonda Heating & Cooling is located in Ballston Lake, NY, and is another great veteran-owned business that hired Media Pillars for its website and online presence. We continue to provide website hosting, management, and social media management for this great company.
Timberline Printing – Signs – Banners – Vehicle Lettering is a company based of Saratoga Springs, NY and hired Media Pillars to develop and host their website.
Marble Stands by Finewoods is a start-up company that specializes in hand-crafted wooden stands for display items like marble, baseballs, and/or golf balls to name a few. Owned by a great and hard-working guy who is dead set on providing quality products at a fair price. Media Pillars was hired to develop and host their website.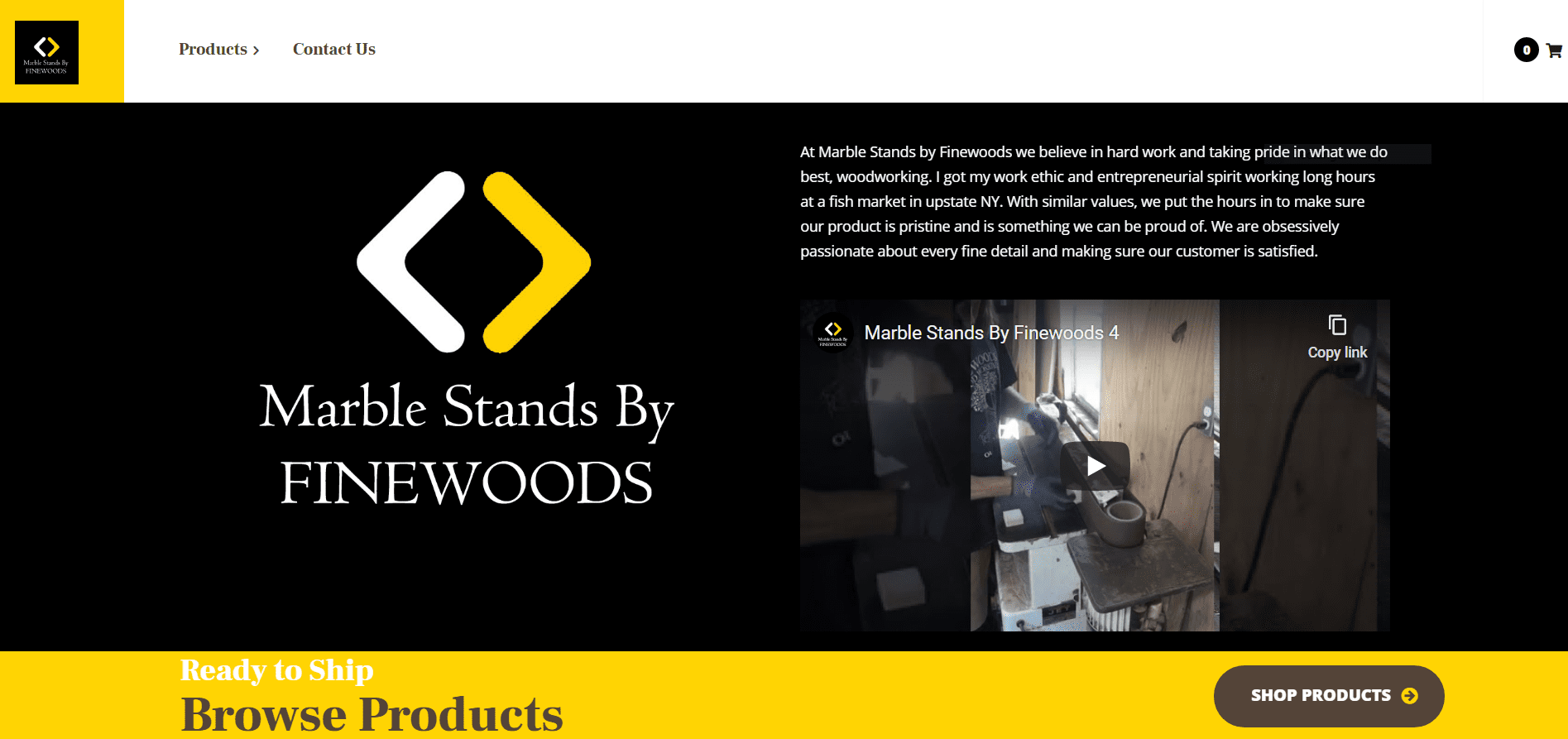 Client review
What to expect!
You contact us & we set up a video chat meeting or email exchange to determine your needs, goals and status que.
Media Pillars does a full audit of your online presence to determine the perfect strategy to meet your goals.
We submit a detailed proposal of the strategy we suggest for your success.
Upon acceptance of the proposal we will meet again via video chat to confirm, discuss and tweak the strategy.
You will receive your invoice for payment and a checklist of items we will need to get started.
Upon receipt of checklist items, Media Pillars will begin to implement the agreed upon strategy items.
Baseline reports will be sent to you so we all know exactly where we are starting.
Notifications of strategy items completion will be sent via email along with ongoing reports to show progress performance.
Constant communication in regards to rising keyword rankings, traffic and conversions.
As concerns or questions arise you will have 24/7 access to call, email or video chat to discuss concerns.
New Shopify Client Results After 43 Days with Media Pillars
Also, $1000+ reduction in AdWords expenses!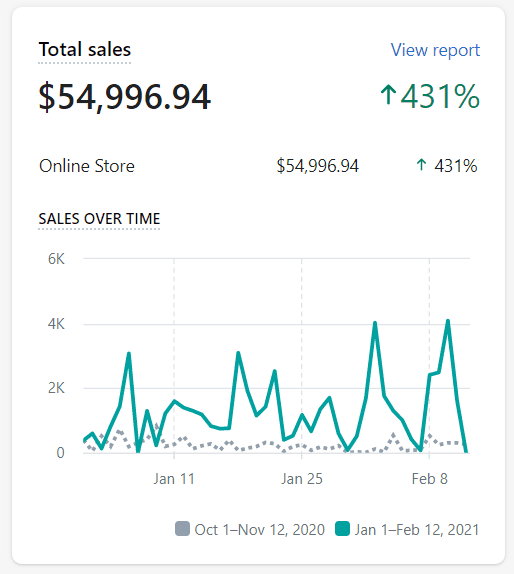 NEW CLIENT 2023
Smokin Bob-B-Que is owned by a long time friend going back to my early teens. His brother, him and entire family took me in as a member of their family. We did everything together including fight, laugh, hike, hunt and so on. They fed me every day just about and their home became my second home. Bob back then might have shot me plenty of times with a bee bee gun, but now days he is a master BBQ chief and I am proud to take on his website development & SEO. I welcome you and encourage you to take a look at his website and LIKE his Facebook page where he regularly posts and goes LIVE to announce where he is and what is available that week. he also does BBQ catering for large events around the state of Michigan.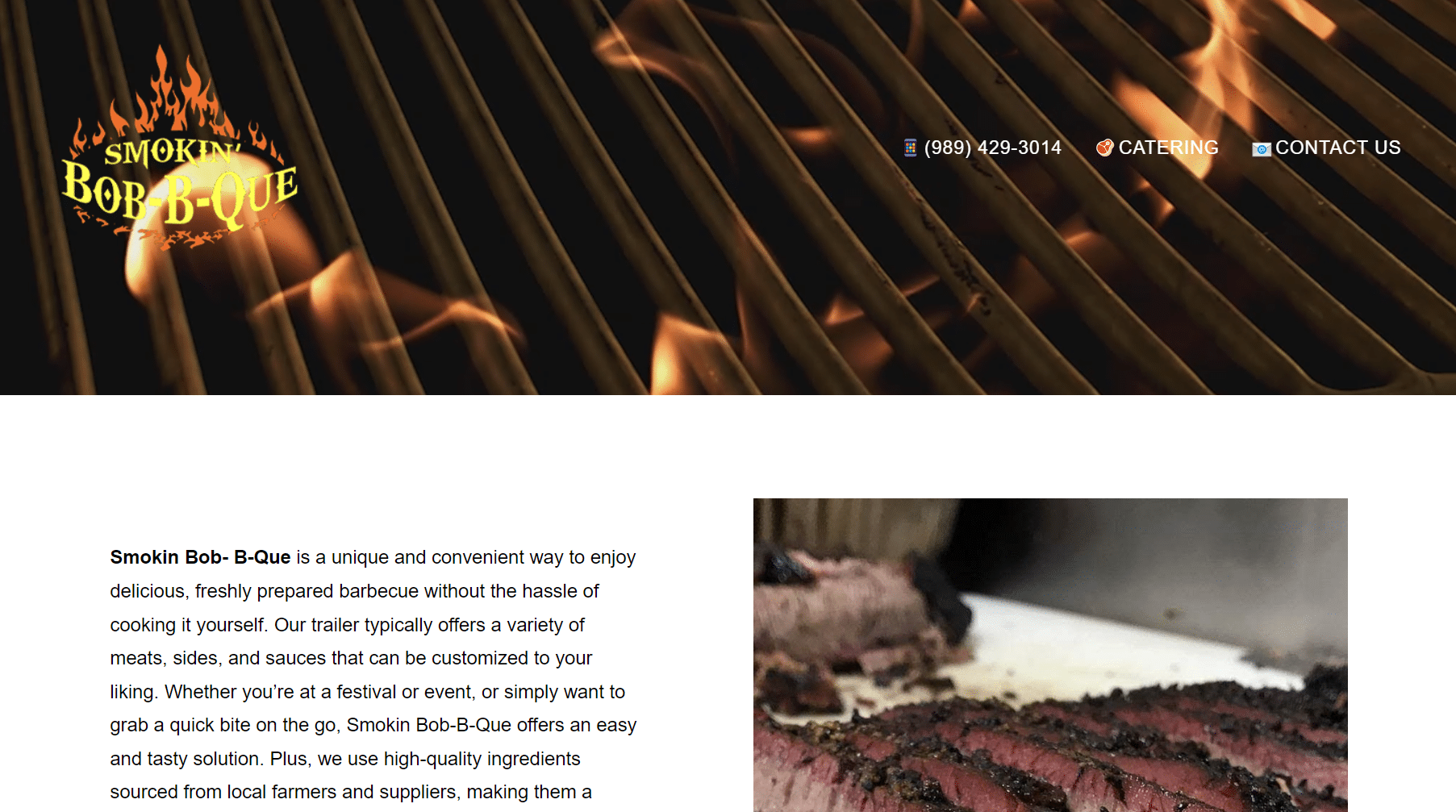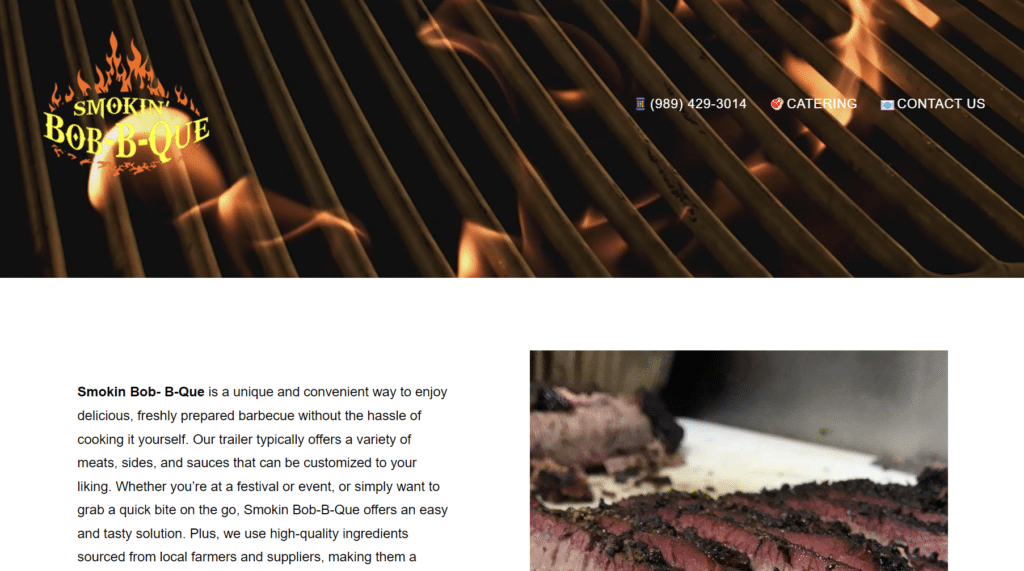 NEW CLIENT 2023
Adirondack Heat Pumps is a veteran owned HVAC business located in Ticonderoga, NY. and specializes in Mitsubishi heating and cooling system installs, maintenance, repairs and more. Media Pillars has been tasked with managing their entire online presence. As a growing and trusted HVAC marketing company, we are looking forward to growing this incredible business that helps people save money and reduce their carbon footprint by eliminating their dependability on fossil fuels.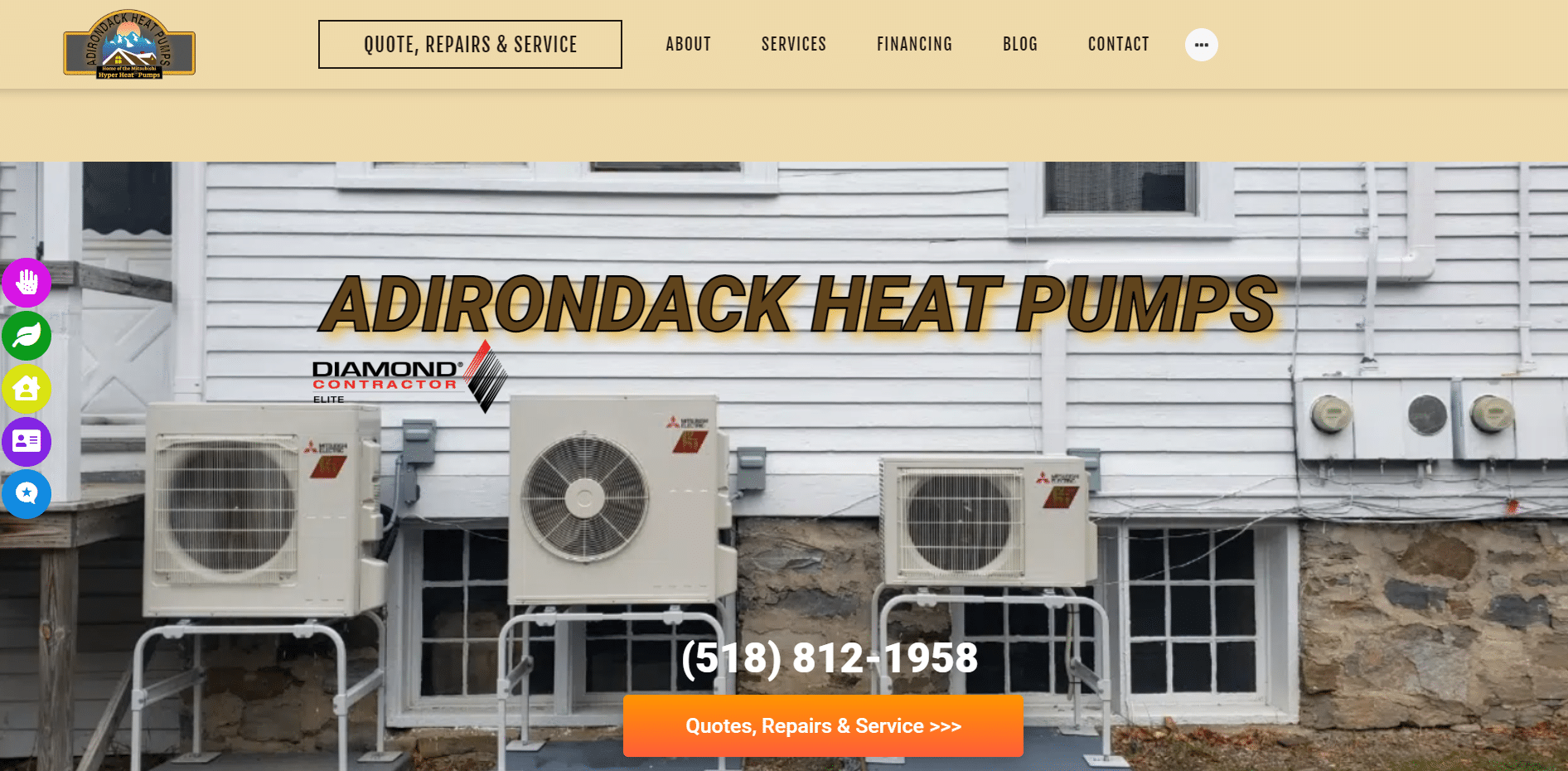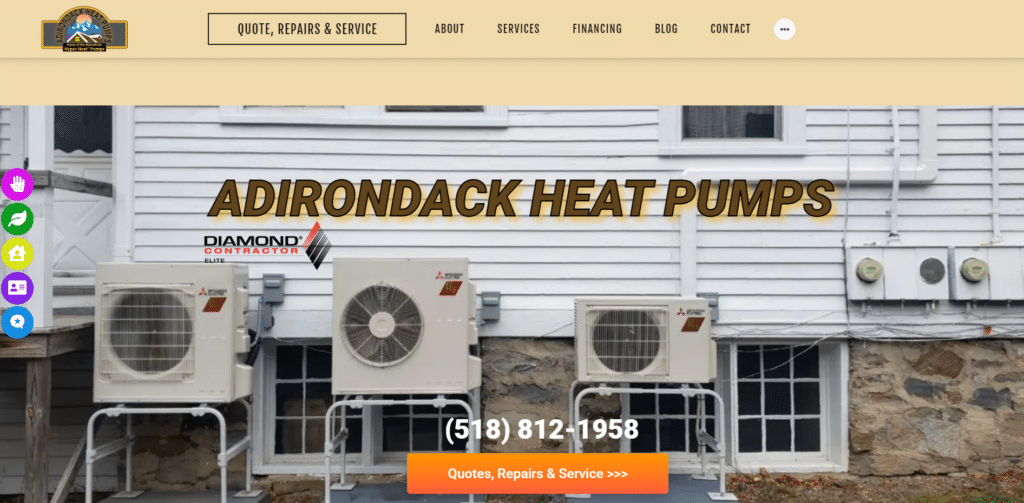 NEW CLIENT 2023
We are lucky to have gotten this great company as clients. Media Pillars will now be managing their website, SEO, Google Business, social media & PPC campaigns. We are so excited to be working with our first California company in HVAC. Our mission for them like all our clients is to make their phones ring, website convert traffic and their revenue to increase. Excellent and well organized strategies in every aspect of their online presence will make this happen. This company does the rest,  their obvious professionalism and put the customer first mentality as already gotten them hundreds of 5 star reviews on multiple platforms, so we know they're the real deal hands down.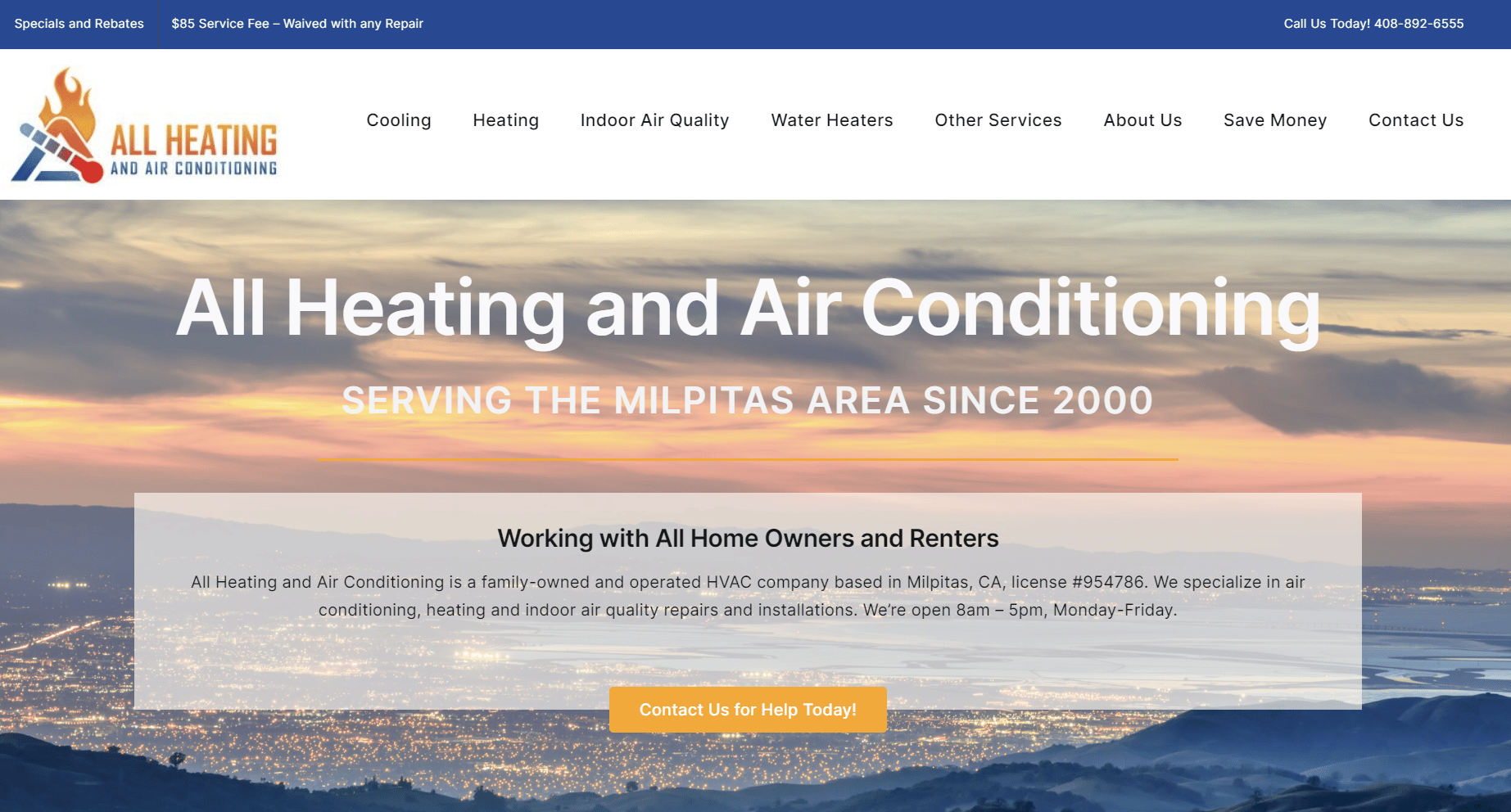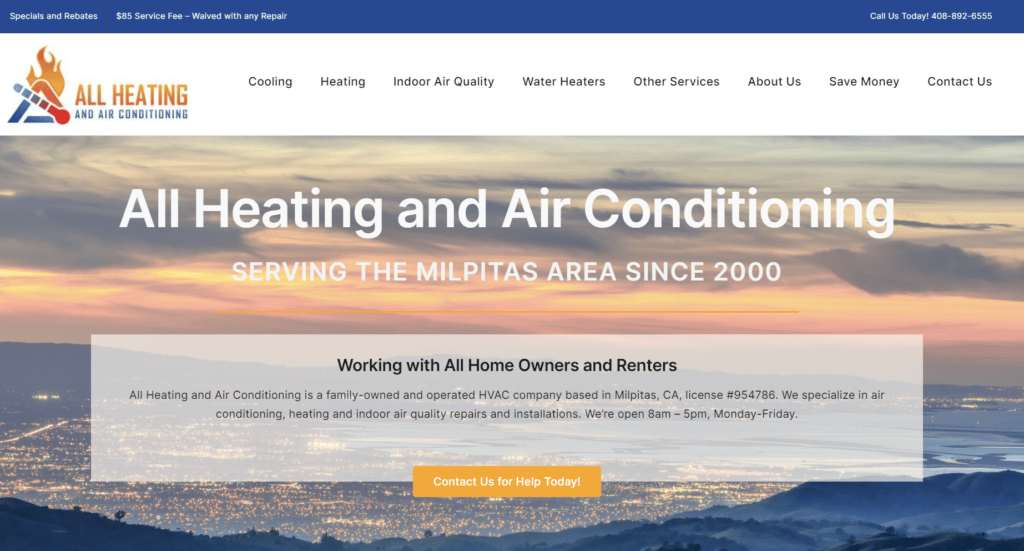 NEW CLIENT 2023
ChemCept is a local upstate New York business that specializes in chemical removal, training and management programs. We are proud to have developed their website and provide hosting, basic SEO and unlimited website changes.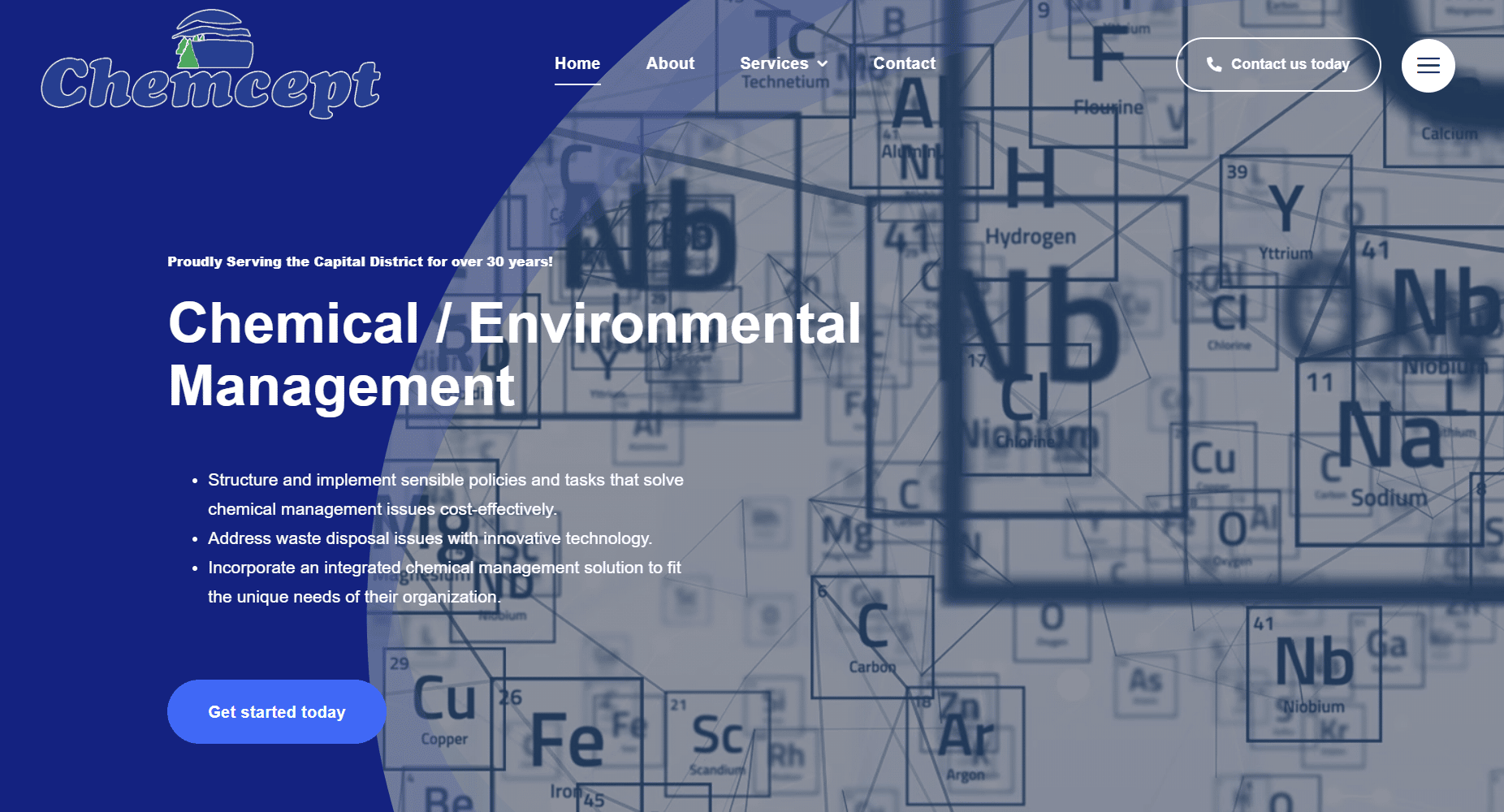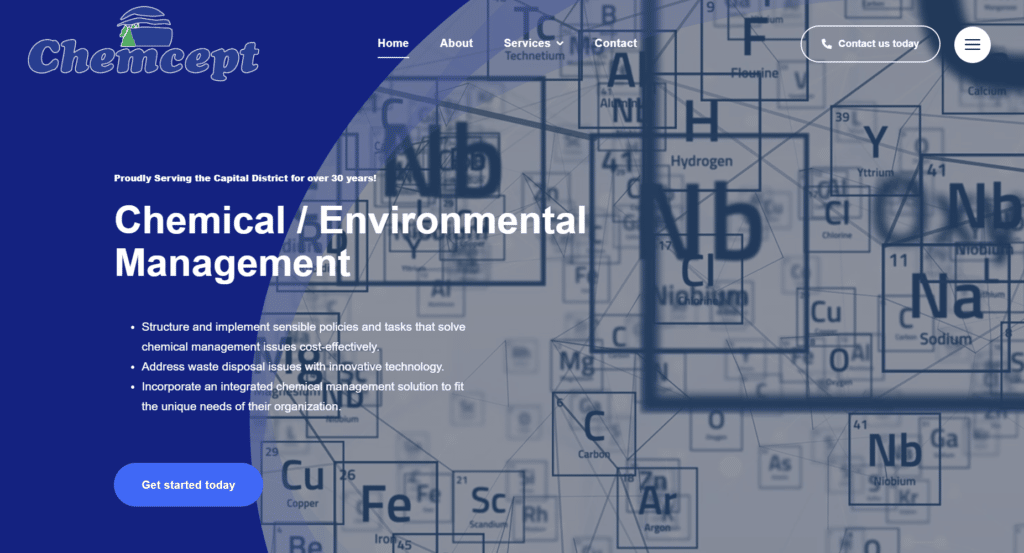 NEW CLIENT 2023
Paint Masters TNC is a professional interior and exterior painting company. They also do garage coating, deck staining/coating as well as power washing. Media Pillars did a ground up website development project for them. We also created their Google Business account, Facebook page and other social platforms. We installed all the needed Analytics, Search console and 3rd party incoming software needed to create an ongoing flow of incoming leads.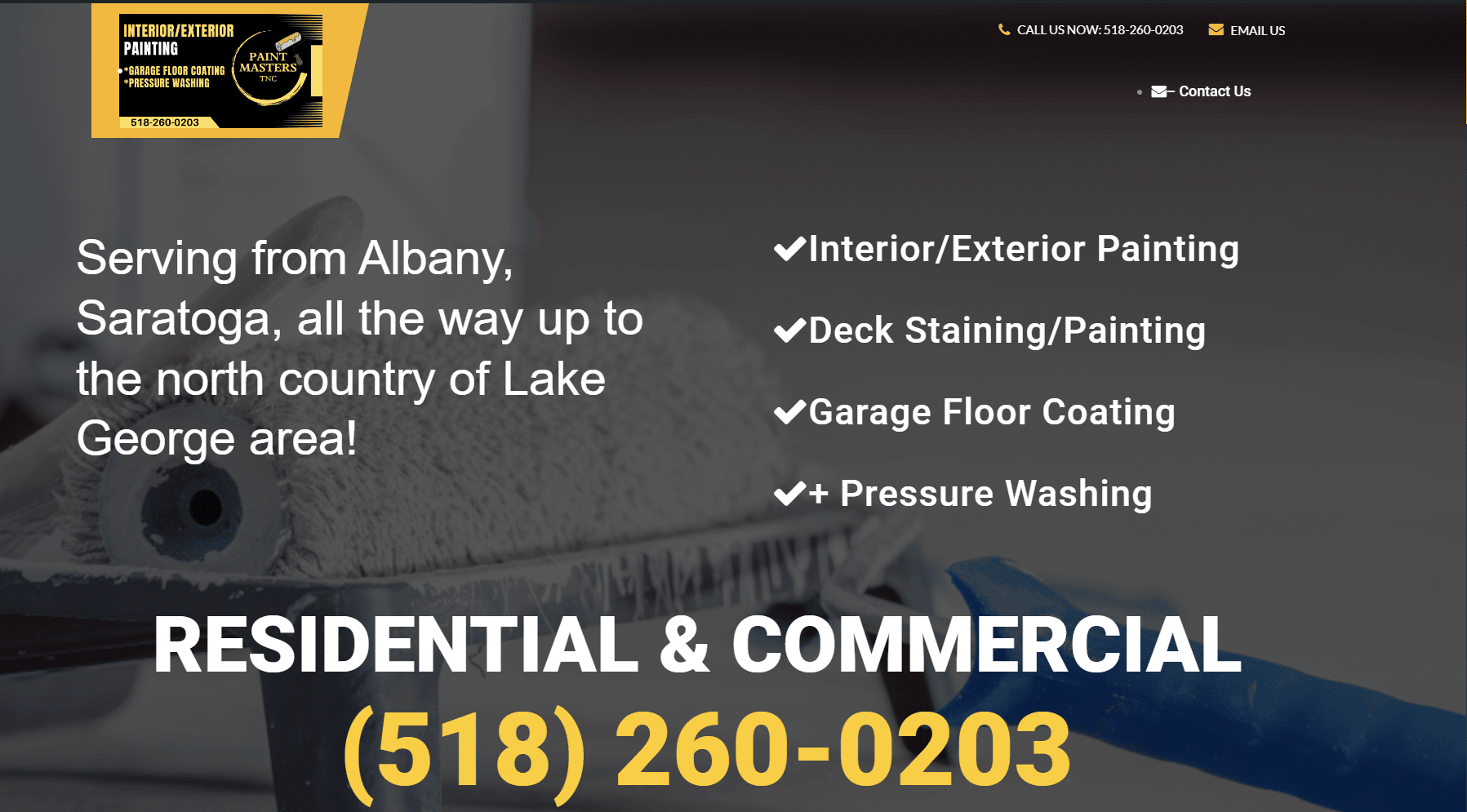 NEW CLIENT 2022
Jessie's Puppies is a quality dog breeder here in New York who specializes in the breeding of Maltese, Yorkshire, Morkie & Malshih puppies. Jessie takes her breeding seriously and all her puppies receive their first shots, a Vet check up and a microchip. Media Pillars developed her website, created her Google Business and social media profiles as well as linked her website to the AKC marketplace. We invite you to check out her website, use her services or contact her in regards to her experience working with Media Pillars Website & Design.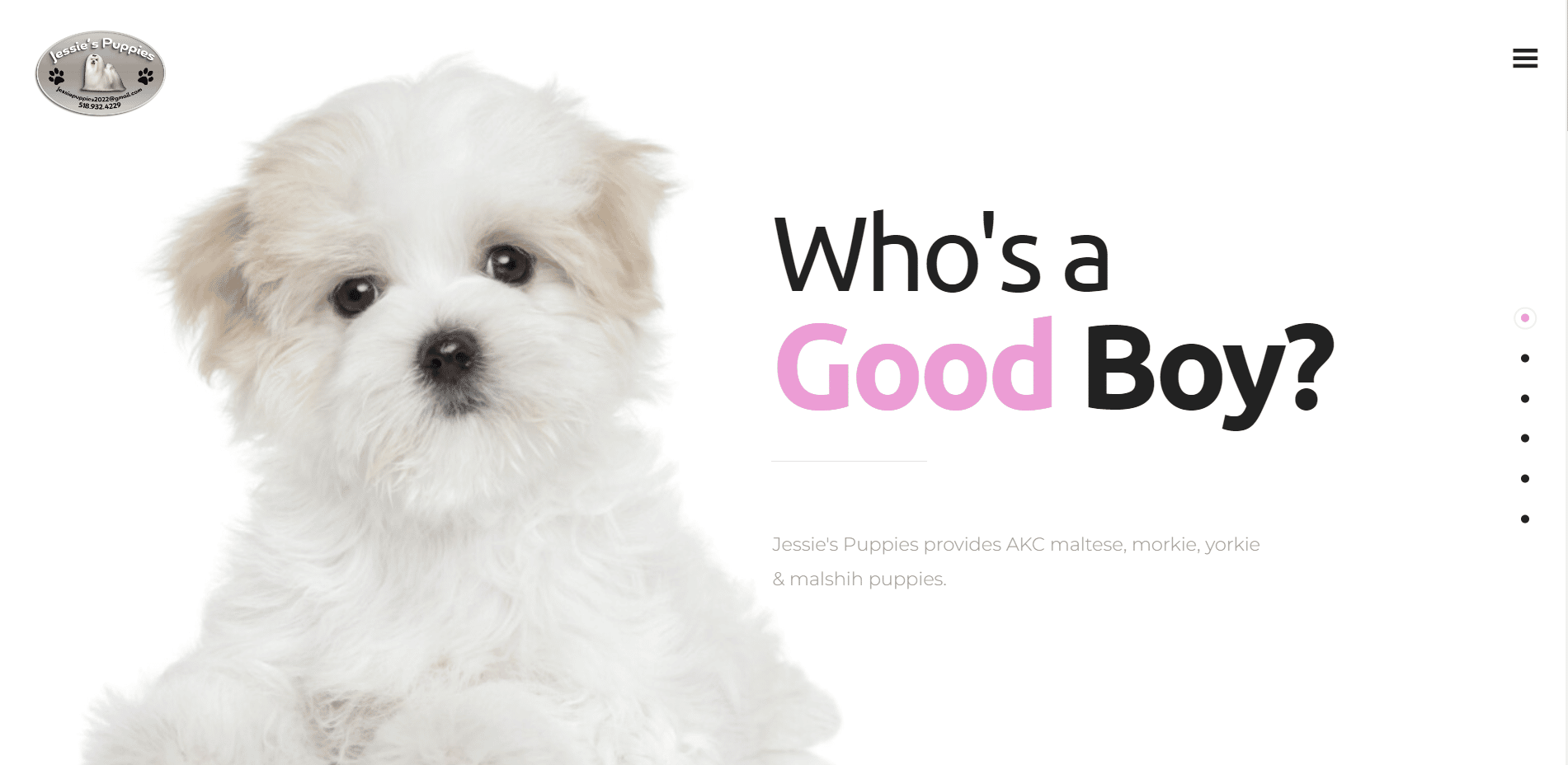 NEW CLIENT 2022
Miller's Backyard BBQ is a new restaurant but the team is not new to BBQ. They have won 8 Grand Championships, 3 Reserve Grand Championships, 6th place ribs at American Royal World Championship, 7th place chicken at American Royal World Championship. They are located in Cohoes, NY and we invite you to check out their website and their food. We developed their website and also host it with unlimited edits and changes throughout the life of their time having us host their website. We have also optimized their social media, Google Business and website for maximum exposure.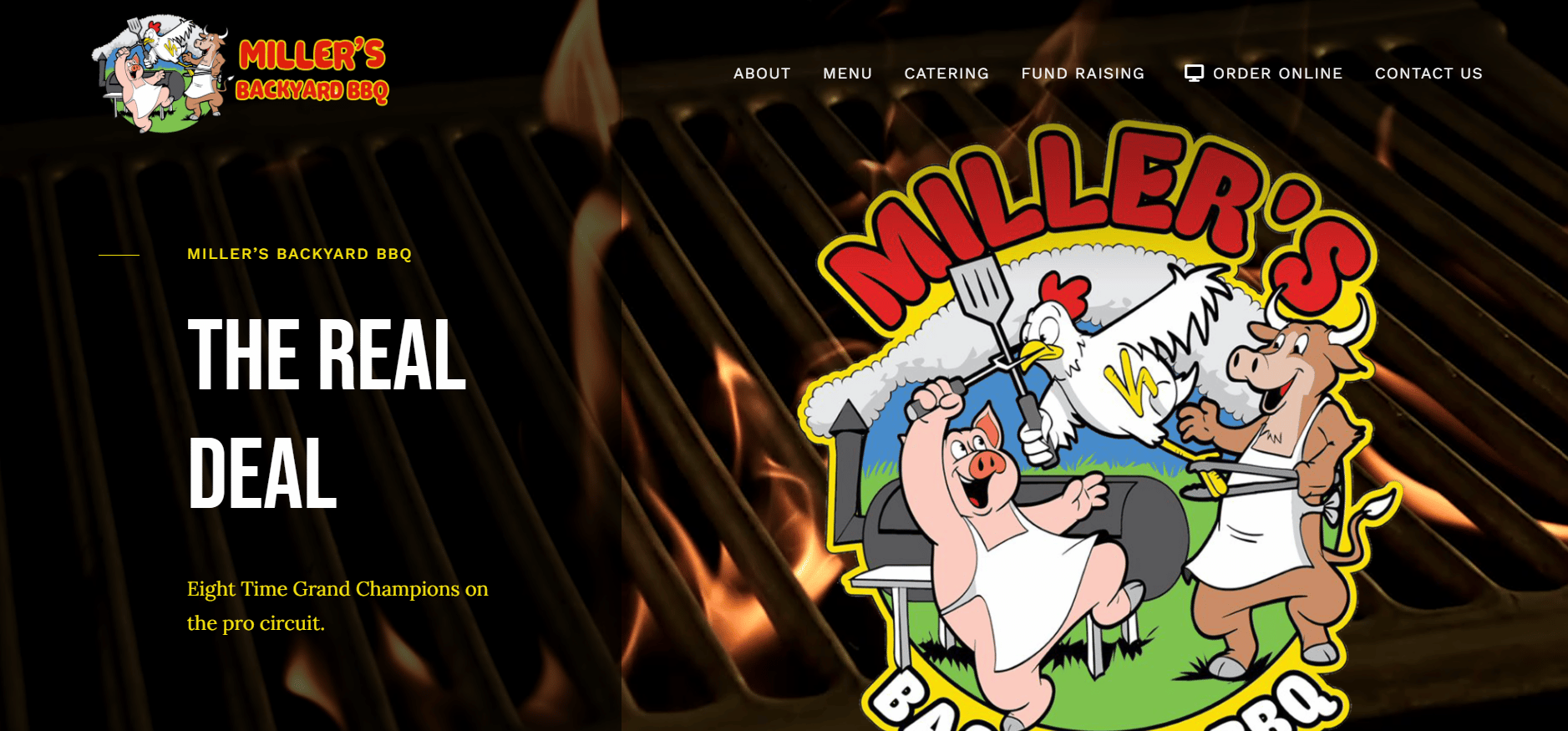 NEW CLIENT 2022
Knapp Insurance Agency is a local insurance agency located in Mechanicville, NY. We were happy to work with such friendly people in developing their new website. We also host, and maintain their new website giving them unlimited changes, edits, and additions at no extra charge.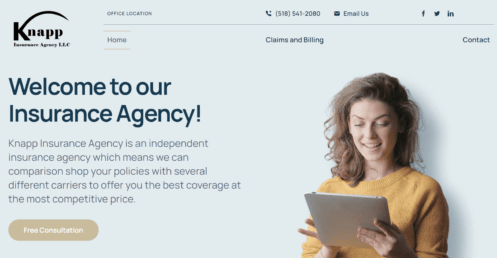 Millennium Children Home Care
NEW CLIENT 2022
Millennium Children Home Care is dedicated to Providing the Best Pediatric In-Home Health Care. We provide skilled nursing RN and LPN services. Also we offer nutrition counseling. Media Pillars developed their website, hosts it, does unlimited edits, changes and additions for no extra charge and as set up all their other media pillars such as Google Business and social media accounts. Full reporting and basic SEO services are also included in what they are receiving.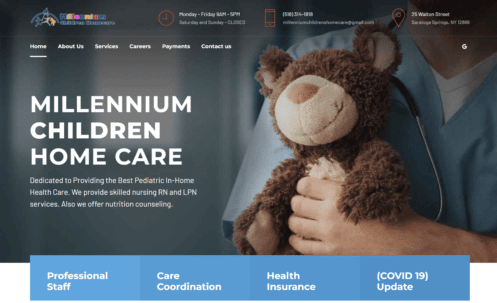 NEW CLIENT 2022
H2O Solutions is located in Malta, NY and specializes in all water treatment type services and equipment for residential and commercial. They offer free water testing, then based on the results give your the suggested solutions for your specific location and water. Media Pillars provides them with all full online presence management package which dramatically increases their incoming leads, revenue and customer support capabilities.
Crosstown Glass & Aluminum
NEW CLIENT 2022
Crosstown Glass & Aluminum is a new client that hired us to design their website and also host it. We provide them with unlimited edits, changes and website additions as well as their security and software updates as needed.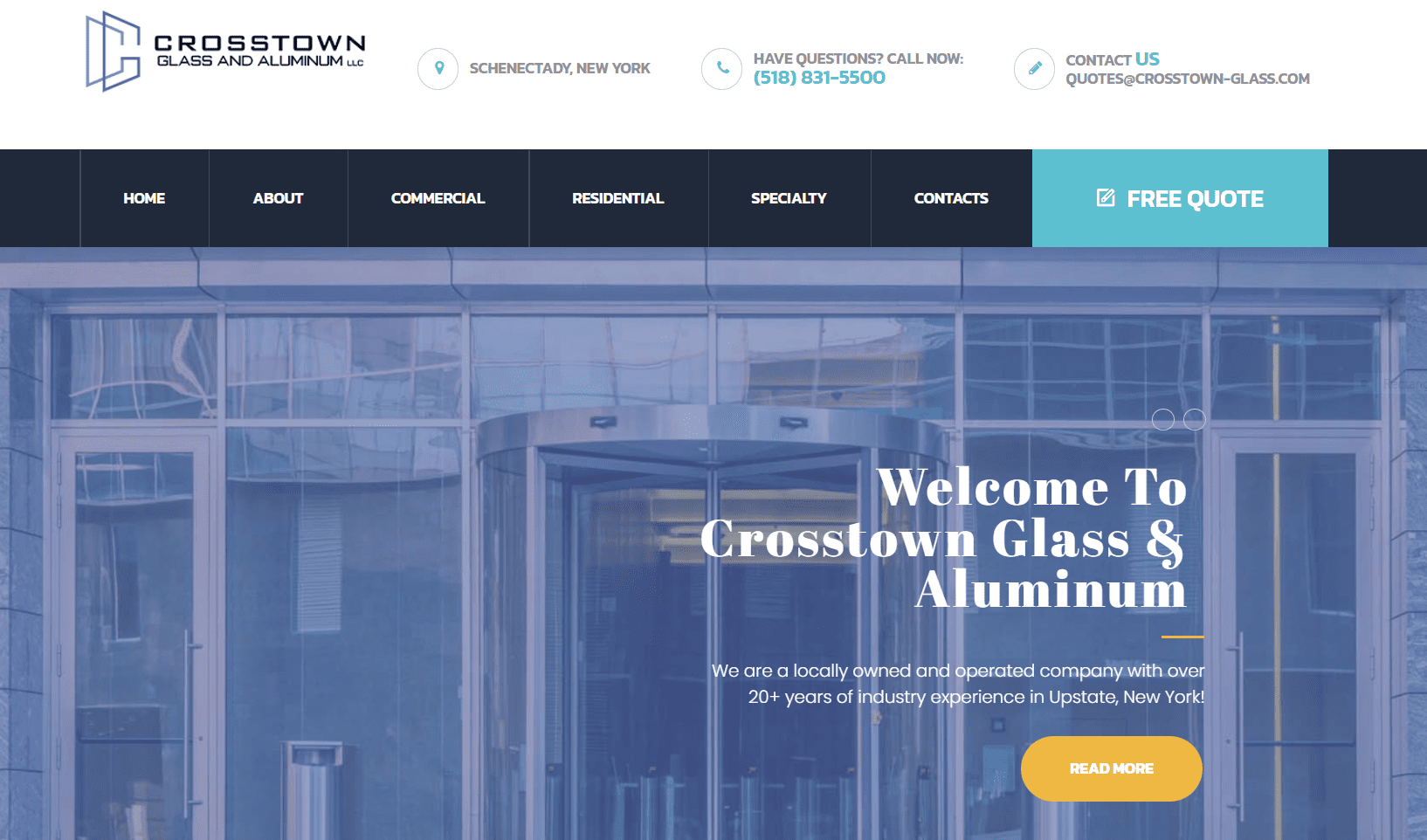 Great Lakes Helicopter Inc.
NEW CLIENT 2022
Great Lakes Helicopter Inc. is a helicopter refurbishment company located in Michigan. We recently re-designed their website and also provide them with hosting, editing and unlimited content additions.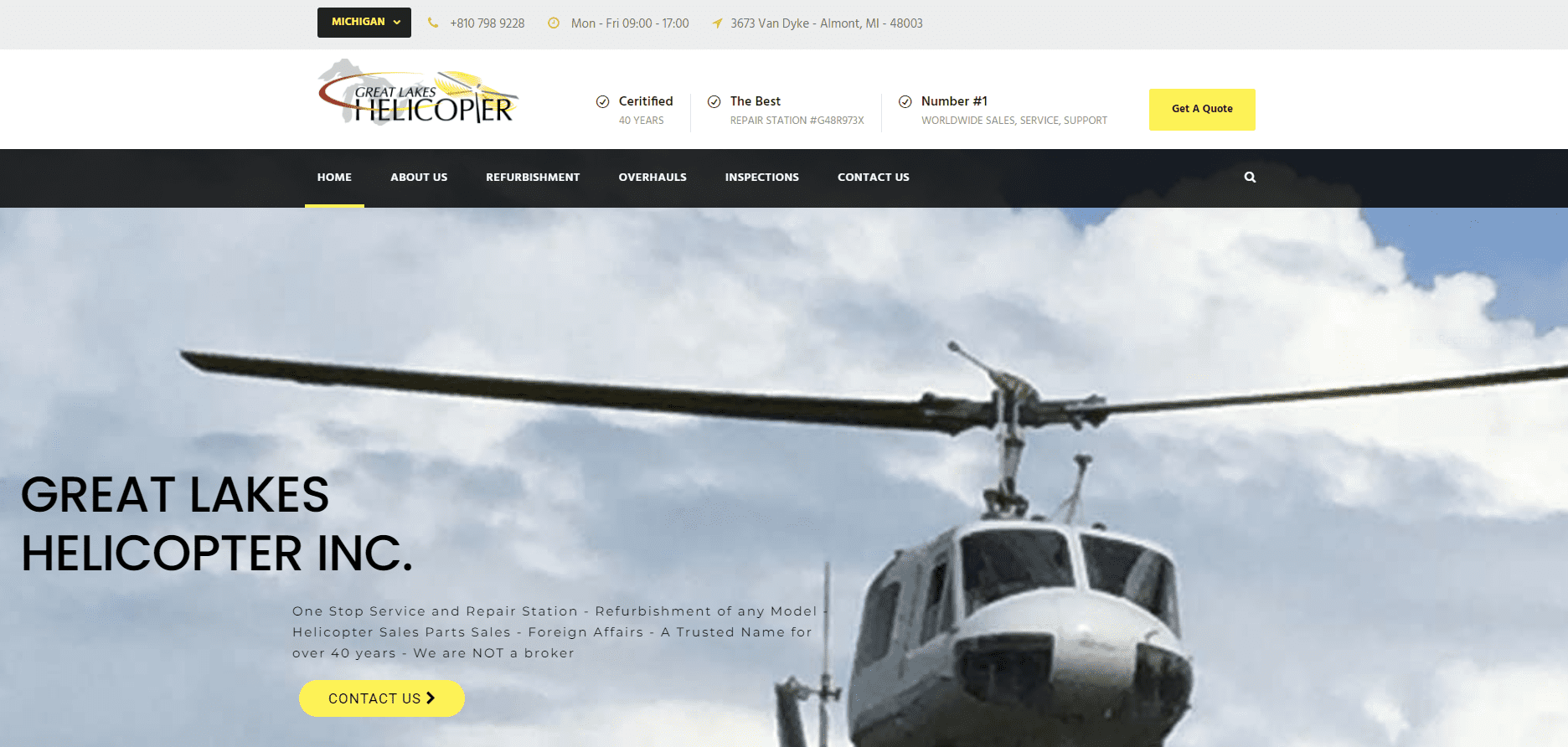 Media Pillars is Your Marketing Department – Clients & Reviews
When Media Pillars starts communicating with you to develop an ongoing internet presence strategy we start from the ground up.
We start by meeting with you either in person or via video chat to determine your current status and what your goals are moving forward.
We research your presence online, your competitors and your target market. We then develop a plan based on what you have in place to start increasing your revenue. Every business is different so cookie cutter solutions are just not an option.
Foundations for Your Media Pillars
Every aspect of your online presence is evaluated and implemented for future increases. The following is optimized or created to work hand in hand with your website to increase revenue.
Google Business
Google Analytics
Google Search Console
Paid Advertising
SEO (Search Engine Optimization)
Social Media Activity
Social Media Engagement
Social Media Advertising
Website Inbound Conversions
Ease in Getting Found
11. Website Speed
12. Website Responsive Capability
13. Online Reviews
14. Digital Customer Data Management
15. Automated Email Marketing
16. Advanced Reporting for ALL Areas
17. Landing Pages
18. Localized SEO (Search Engine Optimization)
19. Business Listings Presence Accuracy
20. In Depth Customer Journey Evaluation
No Contracts Just Results
We rely on our results instead of a contract for our long term relationship!
Google Business Stats & Reports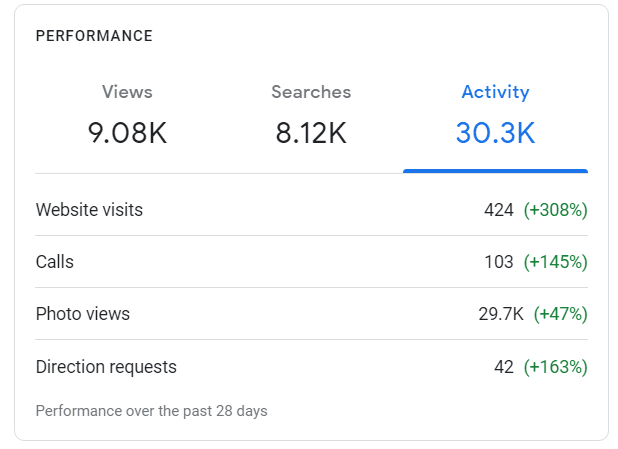 Monitor and Use Data for Determining Focused Keywords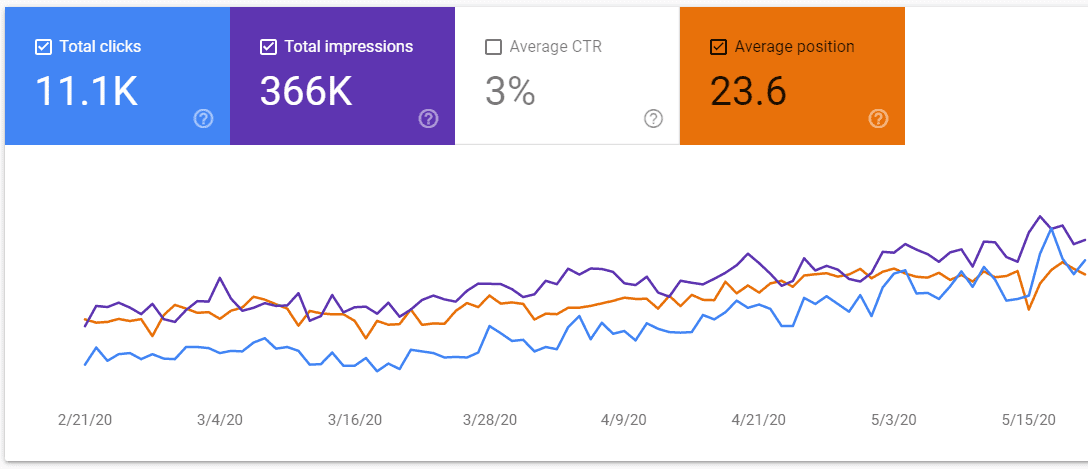 Comparison Reports from Google Analytics to Show Year to Year, Month to Month and Week to Week Growth

Use Demographics to Identify Exact Target Market Based on Statistics

We Do Not Take Your Competition as Clients
Here at Media Pillars we believe that working for you means, not working for your competition. After all, how can we get you to the top of search engines and search results if we are doing the same thing for your competition? Instead, we target your competition and their efforts in order to beat them in getting found.
Key Points to Remember:
No contracts
High ROI
We answer the phone
Fast edits/changes
Data driven
Transparency
Daily monitoring
Your competition can not hire us
Whatever it takes moto
Personal 24/7 support