Search Engine Optimization Services
Bring more traffic and conversions to your website with search engine optimization.
Our SEO (Search Engine Optimization) Process
Our 5 step SEO process ensures that your business gets the most out of our services.
Local Geographical Location Optimization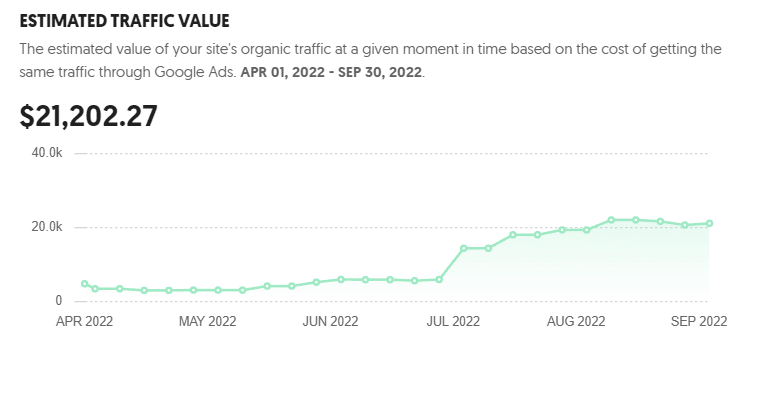 Google organic traffic from search is 90% more affective than a paid Google Ad placement. Look to the left and see this clients traffic and what it would have costed had he paid Google for the same traffic, and it would not have been as high of quality traffic.
There are a variety of methods of targeting local geographical locations for specific keywords. This strategy is extremely important for getting found outside of your immediate geographical location.
For example, you may have a business that operates out of Colonie, NY but you want to show up in search engines for Albany, Saratoga Springs, and north into Lake George and Queensbury, NY.
By default since you are located in Colonie, NY your Google Business listing will generate traffic in that area, but how do you show up in search engines for people in those other locations? It is simple, you need advanced SEO work done to create very targeted pages on your website. You also need to optimize your social media and Google Business profiles.
All these advanced tactics send a signal to Google and other search engines that you should be an option for your services or products in these other locations. We know how to do this and we are very good at it. The company that does this in your market will easily be getting the majority of your target market. It can be you, don't allow someone else to dominate in search results.
Drive Traffic to Your Website with Good Search Engine Optimization Strategies
Bring more traffic to your website, convert more of that traffic and enjoy a big return on your investment when you hire Media Pillars Search Engine Optimization Services!
We dramatically increase the traffic to your website and concentrate on converting that traffic with focused calls to action.
➡️Online Reputation Management
➡️Rely on an experienced and knowledgeable team
➡️Save time and money
➡️Connect with pre-qualified customers
Investing into search engine optimization means getting found!
The Key to Successful Search Engine Optimization
There are a lot of little things that the average business owner simply does not realize when it comes to doing SEO. The little details count a great deal! For those who want a bit of insight on what to look at, if your going to try things on your own, we've put together a list of items for you to have on your radar.
Google Business account must be claimed, optimized, and posted weekly linking to a variety of pages on your website.
Social media platforms need to be optimized and posted weekly with some posts linking to a variety of pages on your website. Remember, always use the exact URL when it comes to HTTP://, HTTPS://, www, etc.
All pages of your website need an H1 – also use proper and regular follow-up H2, H3, etc.
Images need alt text and should always be the exact size in which they will be displayed.
Internal linking is important. If you have a page about a topic, make sure everywhere that descriptive word links to that page. These should be the main pages of the website.
Pages with 300+ words will rank better.
Constantly add, edit and create content. A non-active website will undoubtedly drop or never rise in rankings. Constantly producing content and using it on your website, social media, and Google Business will drive more traffic than you can imagine.
Do not use duplicate titles and/or descriptions – every page needs its unique title and description.
Remember, the longer visitors stay on your website once they get there, the better your rankings will be, so capture their attention as fast as possible.
Speed matters, displaying correctly on all devices matters & creating good content matters.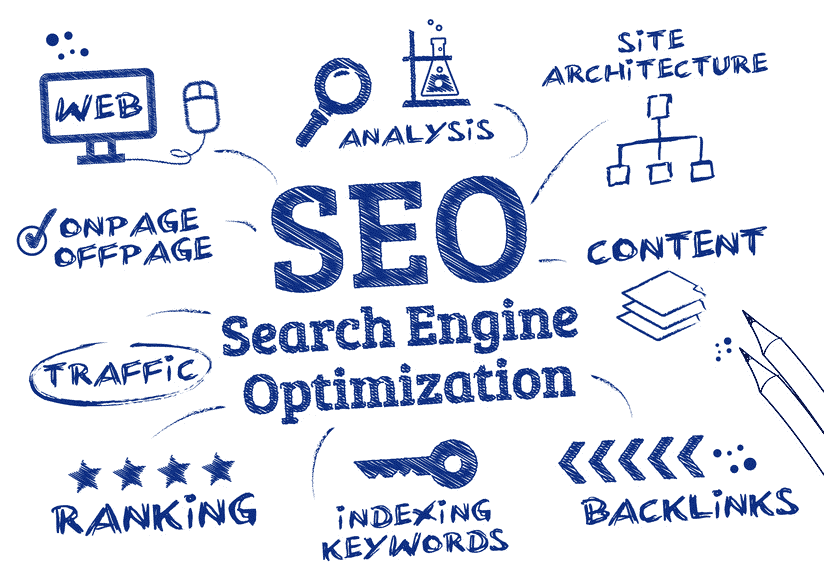 Search Engine Optimization Consulting Service
Don't want to pay for SEO services, but would love some consulting to get you on the right track. Media Pillars provides great SEO consulting services at your request.
We will do a full SEO audit of your online presence and then meet with you via video chat to give you a very specific strategy and how-to list to do it yourself.
SEO (Search Engine Optimization) Pricing
SEO Audit
Keyword Ranking Reports
Targeted Headers
Photo & Video Optimization
Local SEO Focus
Google Business Optimization
Advanced SEO
Additional Focus & Time
Landing Pages with Targeted Keywords
Social Signature Boost
External Linking
Advanced Internal Linking
Comparison Reports
Monthly Reports Show Changes in Rankings
Daily Monitoring & Optimization Based on Needs
Everything from Basic & Ultra
Fulltime daily optimization
Constant monitoring of keyword rankings
Competition Keywords Targeted
Geographical Locations Targeted
Expanded Geographical Locations
Google Business Local 3 Pack Focus
Daily Social Posts for Social Signature Boosts
Reviews Management - Critical to SEO