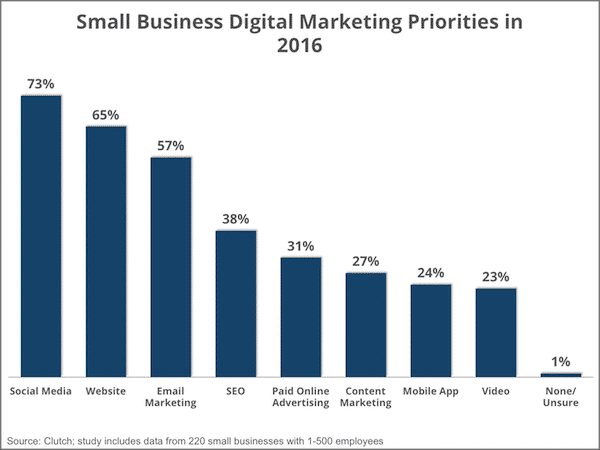 Small Businesses Use of Social Media Exploding
Small Businesses Use of Social Media Exploding around the Country and world for that matter. The new world of marketing and branding has changed and everyday more and more small businesses are jumping on board. When a small business owner starts noticing that business is slowing down and not picking back up, what do they do? They jump on Google and check their ranking aside their competition. They see they are not showing up in the Google local 3 pack or on the fist page. Stress sets in and they realize something needs to be done.
Taking Action to Stop Their Decline
This is a great example of how a small business may want to prioritize their online efforts. Some businesses make the mistake of using only social media without a website. This is a mistake because Google and other search engines actually are looking to make sure your social media is linked to your business website. When there is no business website it actually hurts your chances of showing up in search results like Google local 3 pack. All these pillars of your online presence are not necessarily  needed but the first 3 should be utilized.
What do I need to do to stop the decline of my business? Small to medium sized businesses are asking themselves this more and more now days and the answer starts with social media. Social media is where over 1 billion people per day spend a huge amount of time. If your business is not available to be found there your missing out on potential customers/clients and revenue. As more and more people use social media to make purchases the likelihood of traditional marketing grows less effective.
Get Your Business on Social Media
If you have no clue on where to start we are happy to give you a few pointers to get you moving in the right direction. Start by doing the following.
Join Facebook and start a business page. Join here – www.facebook.com then create a page. Once your logged into Facebook go here – https://www.facebook.com/pages/create
Add your Facebook page link on your website.
Join Instagram, it's quickly growing and there's huge opportunity here. www.instagram.com
If you have videos that are of your business or about your business then register and upload them on your own YouTube.com account.
If you would like assistance, guidance or information about our services that can take care of all these issues, we welcome you to contact us today!