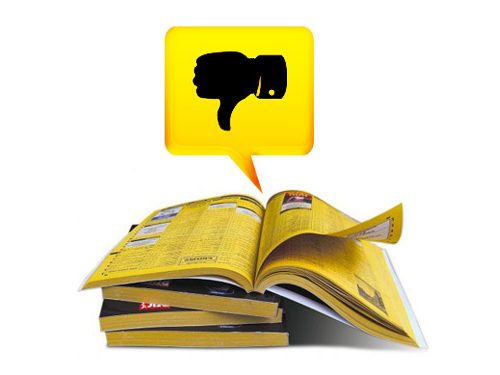 Let's face it, phone book advertising is a waste of money. I worked for the largest phone book distributor in the country as a sales representative and I saw the statistics. Sadly phone book companies are still selling that these books are relevant for advertising and charge an arm and a leg. That same money spent on internet advertising, SEO or a new website will give 10 times the ROI.
Why Are They Still Selling Phone Book Advertising?
Businesses that have been around a long time remember the days when being in the phone book was critical to getting new business. They paid to be in there for years and are now wasting their budgets to stay there. Phone book companies have millions of contacts and contracts from small businesses from over the years. They are trying desperately to convert their huge customer base to digital services before its too late. Their process to create phone books is perfected and they can not just throw in the towel on all their resources to do this, but they should be honest with customers and with themselves about what types of marketing produce the best results. They are not doing this.
As a sales rep. I was taught to always push print, then digital. It felt wrong and I knew it was wrong so I started Media Pillars where I could educate and produce using digital services for small businesses. Do NOT BUY PRINT ADVERTISING. Does it produce results? Very minimal and compared to digital for the same money, it is a no brainer.
I Don't Understand Digital Marketing, Where Do I Start?
The first thing you need to do is accept that all forms of traditional marketing that made you successful in the past are not obsolete. If you do not want to take my word for it that's understandable. Do your research and you will see the statistics, and statistics do not lie.
Now you have to start from scratch in learning about the best ways to generate the best results with digital marketing. Digital marketing has so many more options and it leaves most people overwhelmed. Here are your options.
Contact digital marketing companies to give presentations on their services – (You learn a lot)
Research options yourself (Time consuming)
Hire a marketing person to do everything
Use your traditional marketing budget to selectively purchase digital marketing
Contact Media Pillars who can do a full analysis of your online presence and give free advice and options for services